Model: platform stairlift V6s 
Flights: 3
Type of building: Public building
Country: UK 
Throughout this case study, Vimec's partners demonstrate their capability to identify the best solution for each customer, as well as Vimec's expertise in delivering highly customized and efficient mobility solutions.
The Challenge
The hospital faced an accessibility challenge on its premises, with patients, visitors, and medical personnel needing to overcome 3 flights of stairs to move seamlessly between different levels. They got in touch with our local partner who visited the site to understand the needs and advise on the right solution. The challenge for Vimec was to design and produce a platform stairlift that complies with the hospital's safety regulations, meets the specific requirements of the three flights, and provides convenient transportation for individuals with mobility limitations.
 The Solution
Understanding the hospital's unique requirements, Vimec designed and produced the new platform stairlift  V6s specifically tailored to overcome the 3 flights of stairs. The platform stairlift is equipped with advanced safety features to ensure the highest level of security during transportation.
The anthracite grey body of the stairlift with platform, which was recommended by our partner, provided a stylish appearance.  Our local partner, who meticulously planned and executed the installation process, worked closely with the hospital staff to minimize any disruptions to the hospital's operations.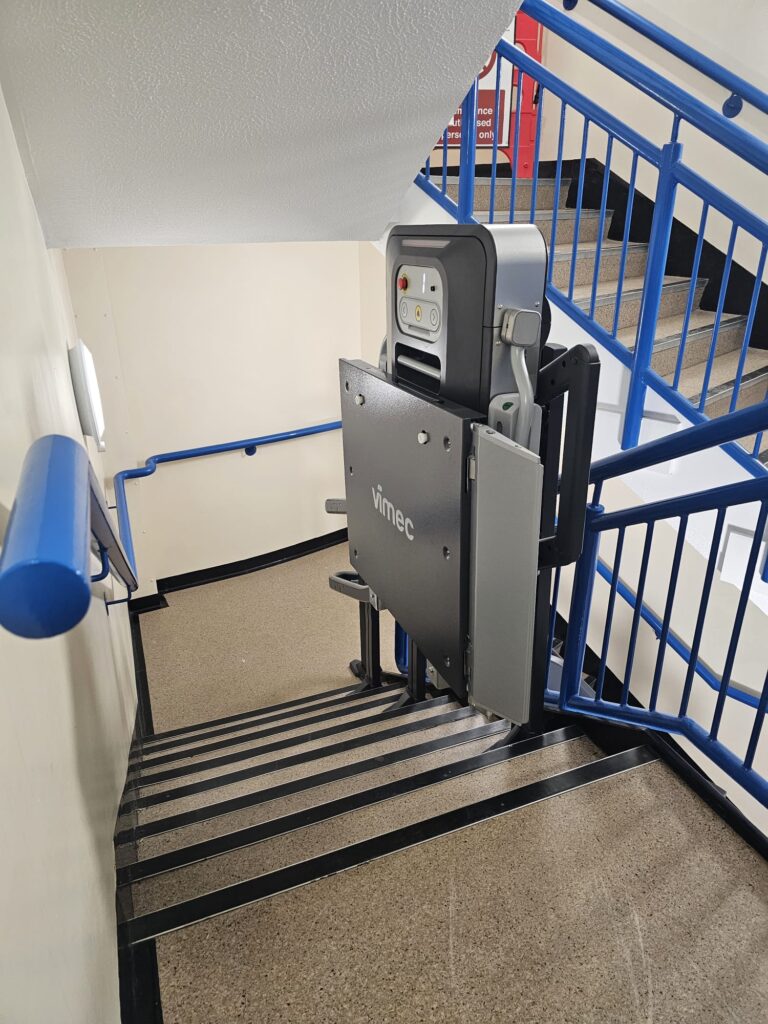 The Result
Following the installation, the platform stairlift inside the hospital proved to be a game-changer for accessibility.
The V6s platform stairlift's anthracite grey body not only contributed to the hospital's modern and sophisticated look but also proved extremely durable. The advanced safety features ensured the utmost protection for individuals during transportation, exceeding the hospital's safety regulations.